dimanche 24 janvier 2010
Everyone knows I'm fond of Pho because it tastes good, it's cheap and the best Pho restaurant is only 20mn away by walking from my home. Even in case of strike I can go there!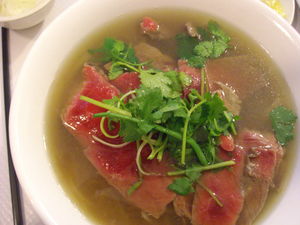 The Pho is a Vietnamese soup made from "beef stock" the day before, with pasta, different meats and bean sprout. Only one bowl is enough to be satisfied whatever the small or the big one. If you're fond of eating as I am, you have the choice between strange desserts: some are very colorful; some others are made from beans and coco. They are as strange as they are good. Two restaurants is famous in Paris to make the best pho : Pho 14 and Pho Mui (two both at station Tolbiac). That's obvious that you can find pho in many other restaurants but, if I may give you a piece of advice, do not eat any pho in a restaurant which is not used to cook it. They usually make it from an industrial powder. That's really disgusting and sometimes more expensive as the real pho. Another restaurant to avoid: the restaurant close to Pho 14. You won't eat a pho but a greasy soup.
Pho 14 is the most famous pho restaurant and you can find its name on any travel book. Mui Pho or "flavour's pho" is less known but the cook had worked for Pho 14 as he decided to create his own restaurant. That's why the pho have quite the same taste and presentation. The main inconvenient of Pho 14 is the size of the room. The restaurant is really too small and is plenty of people almost all the day long. At the dinner times, many people queue up and you may wait a while before eating. That's why as soon as you finish eat you are invited to leave the restaurant very quickly. This place is suitable for lunch as you don't wait much for your bowl but not suitable at all for a romantic dinner as you have to share your table with unknown person (the inconvenient of every Asian restaurant in Paris 13) The waiters are more or less friendly.
The Pho Mui is bigger and it doesn't have the same problems. Its inconvenient is the more or less cleanliness. Actually I check the cleanliness of a restaurant or a bar at the toilet. If it is clean, the kitchen would be as well. And the toilet is not so clean not so dirty and you have to go through a kind of shambles to reach the second room. But I've never fund something weird in my soup ant the crockery seems to be clean. But the toilet gives me a bad impression.
That's why I prefer eating at Pho 14 even if the price, the locations and the soups are the same. I go to the other one when only I have to wait too long at Pho 14.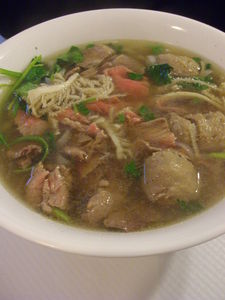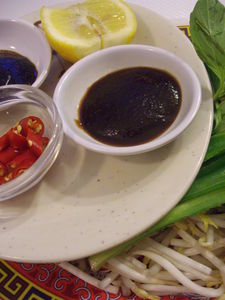 - Pho 14 oder Pho Mui -
Jeder weißt dass ein von meiner Gericht Pho ist. Das schmeckt gut, das ist billig und nur 20 weit von meinem Hause. Pho ist eine vietnamesische Suppe, mit Fleisch, Pasta und Soja in einer Brühe (am Vortage gekocht). Nur eine Schale ist genug um satt zu sein, klein oder groß. Ob du ein Schlemmer bist als ich, kannst du noch Nachtischen wählen. Sie sind so seltsam als gut : mit vielen Farben, mit Bohnen usw. Du solltest alles probieren!!
Zwei Restauranten sind sehr bekannt für Pho: Pho 14 und Mui Pho. Du kannst Pho in anderen Restauranten finden aber sie werden oft mit Pulver gekocht und sind wirklich widerlich. Manchmal sind sie mehr teuer als echt Pho. Ein andere Rat: nicht essen in dem Restaurant neben Pho 14, eine fettige Suppe ist als Pho serviert.
Pho ist der bekanntste Restaurant für Pho im Paris. Pho Mui ist nicht so bekannt aber Pho schmeckt wie gut als Pho 14 weil der Koch von Mui Pho für Pho 14 gearbeitet hat. Die Aufmachung sind fast identisch.
Der Nachteil von Pho 14 ist die Grösse von dem einzigem Zimmer: das ist sehr sehr klein!! Deshalb das Zimmer fast immer voll ist. Am abends sollen die Leute lange wachten. Sobald die Mahlzeit beendet wird, fragt der Kellner um weg zu gehen. Sie sind mehr oder weniger freundlich!
Der Nachteil von Pho Mui ("Pho's Geschmackt" auf Vietnamesisch) ist anders. Um die Sauberkeit zu überprüfen gehe ich zum Toiletten. Ob sie schmutzig sind, ist die Küche sehr wahrscheinlich schmutzig auch. Und hier sind die Toiletten nicht sauber aber nicht schmutzig auch. Um nach dem anderem Zimmer zu gehen müssen wir ein Kuddelmuddel durchqueren. Ich habe nicht etwas seltsam im Pho gefunden und das Geschirrt ist immer gespült. Aber das sieht nicht gut aus.
Deshalb mag ich lieber nach Pho 14 gehen und ich esse zu Pho Mui nur wann Pho 14 voll ist.
Pho 14 : 129 Avenue De Choisy
Pho Mui : 97 avenue d'Ivry
Station : Tolbiac
Pho about 8€, a dessert about 3€
Commentaires
Poster un commentaire